So, since my household got a streaming subscription during the pandemic, I've been hit hard with a string of big disappointments. I'd heard such ravings about Netflix originals, that I couldn't wait to dive in. But, Stranger Things, The Umbrella Academy, The Order, Fate: The Winx Saga, and Enola Holmes all let me down in one way or another (in some cases, several). Therefore, I returned to thinking programs on streaming weren't for me.
Then my kids stumbled on a string of winners: The Last Kids on Earth, Kupo and the Age of Wonderbeasts, Dragon Prince, Jurassic World: Camp Cretaceous, and the amazing Hilda. And I decided to give the search function on Netflix another go.
A few weeks later, I am here to report success.
Kodachrome
Yes, that is in fact Scarlet Witch playing a role that is not Scarlet Witch or Avenger-ish in any way. In Kodachrome, she's a nurse for a cancer patient, an elderly bastard of a photographer with an attitude issue and earned regrets. The patient wants his estranged son to take a road trip with him to the last place in the country that develops Kodachrome film. There were some snippets about the changing face of professional photography, but for the most part this movie is about dysfunctional families and dealing with loss, trying to make up for mistakes, letting go of terrible hurts and learning to forgive and love again. This is a realistic, raw, definitely adult and not always nice portrayal of what brings people together, drives them apart, and draws them back to individuals who have wronged them. This is so good.
There are also some great scenes discussing pop music and the industry, as the old man's son is a record label executive, struggling to keep up with the changes in his own field. Thanks to this movie, I was reminded of one of the best 90s songs in existence, "Lightning Crashes" by the band Live. I do believe it's the first time I've ever heard Live music used in a film as well, so major kudos to the crew for hunting down this forgotten gem. I found that, despite it being easily 21 years since listening to the song, I remembered all the words, and that its power has not diminished. This is also so, so good.
While Kodachrome isn't one I'd recommend for the masses, if you don't mind R-rated content, appreciate grunge music and pop psychology, and can handle the subject matter, I absolutely am shoving this one in your face. It's got a fantastic cast, terrific writing, and the directing never feels heavyhanded. Completely a thumbs-up from me.
The Chair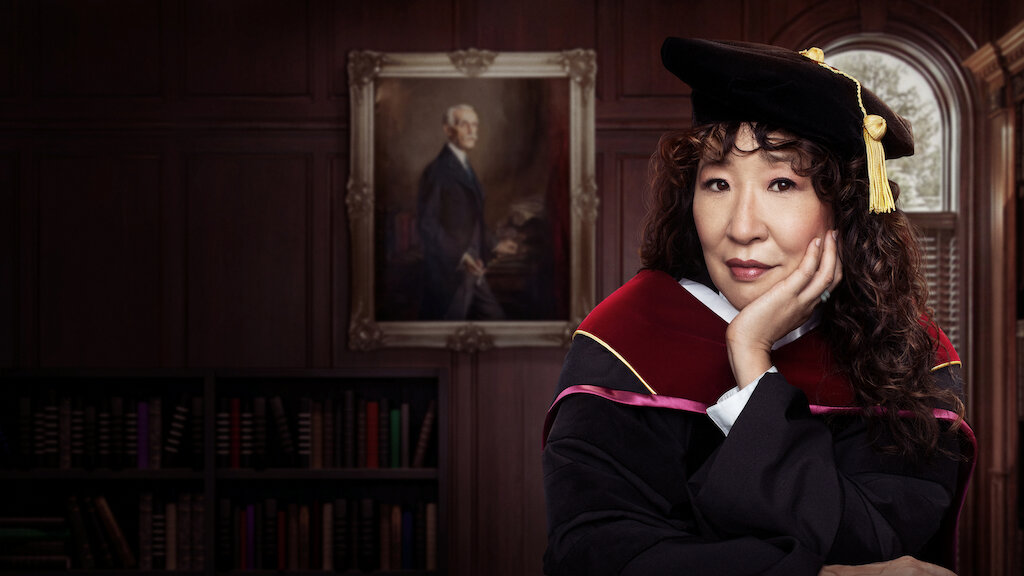 This show is my top adult 2021 recommendation. I loved it. The Chair is an honest, realistic portrayal of being in academia in the 21st century, the struggles women — especially women of color — still face in higher education, and the challenges subjects such as Literature are being forced to reckon with in the era of no one wanting "useless" degrees.
Since leaving Grey's Anatomy, Sandra Oh (who played Meredith Grey's best friend for 10 seasons, and always was second fiddle in that cast, let's be frank) has become a leading lady in her own right. While I found her crime drama, Killing Eve, WAY too unnerving in the end, Oh's role in The Chair hits such a sweet spot. As Professor Joon Yi, she capitalizes on her ability to be serious and funny and clever and vulnerable all in the same series. The chemistry between Joon Yi and her co-worker Bill is undeniable. And the personal issues all the characters face — whether it be career-focused or family-related — ring so true and poignant. Bill lost his wife; Joon Yi has a troubled adopted daughter; Yaz wants to change teaching methods for the better, while Joan is caught between her comfort with the past and the intrigues of the present. I am hardcore fangirling over this show.
Nothing is left off the table, either, when it comes to the plot — the dangers of cancel culture; the pain and irrationality of grief; the obstacles of bi-racial adoption; hanging onto a vanishing way of life, deciding whether to embrace the new with impartial compliance, or whether to forge the path ahead for yourself. Again, this is rated TV-MA, and I totally understand if that's not someone's cup of tea. But if that doesn't bother you, and you're at all interested in academia, then start watching this as soon as humanly possible. It's a short season (only 6 episodes, I think), and it will totally leave you wanting more (NOW!), but, OMG, is it GOOD.
There better be a second season coming up before I even have time to ask about it.
The Loud House movie
Thanks to Muffin for discovering this. The Loud House used to be one of his favorite shows on Nickelodeon (and honestly, the only reason he stopped watching it is because he simply watches YouTube and Netflix much more than any network channels anymore). It's a modern cartoon, with some of the pitfalls one comes to expect from any children's programming (the occasional episode that just doesn't make sense, even for an animated universe; tropey characters overdone; recurring plot points that begin to feel dusty). But it's not often nowadays that a cartoon with truly endearing characters and a more believable premise comes along, and in that regard, The Loud House stands apart. Also, it's very uncommon for movies based on kids' shows to be at all decent, and this was certainly a breath of fresh air; this feature-length story goes in a new direction plot-wise, while maintaining the concrete traits of the characters, and not relying too much on slapstick or the tropes to carry the tale. Well done, I (get to) say again; well done.
Not new, but one hundred percent worth the mention: Monty Python, Labyrinth, We Bare Bears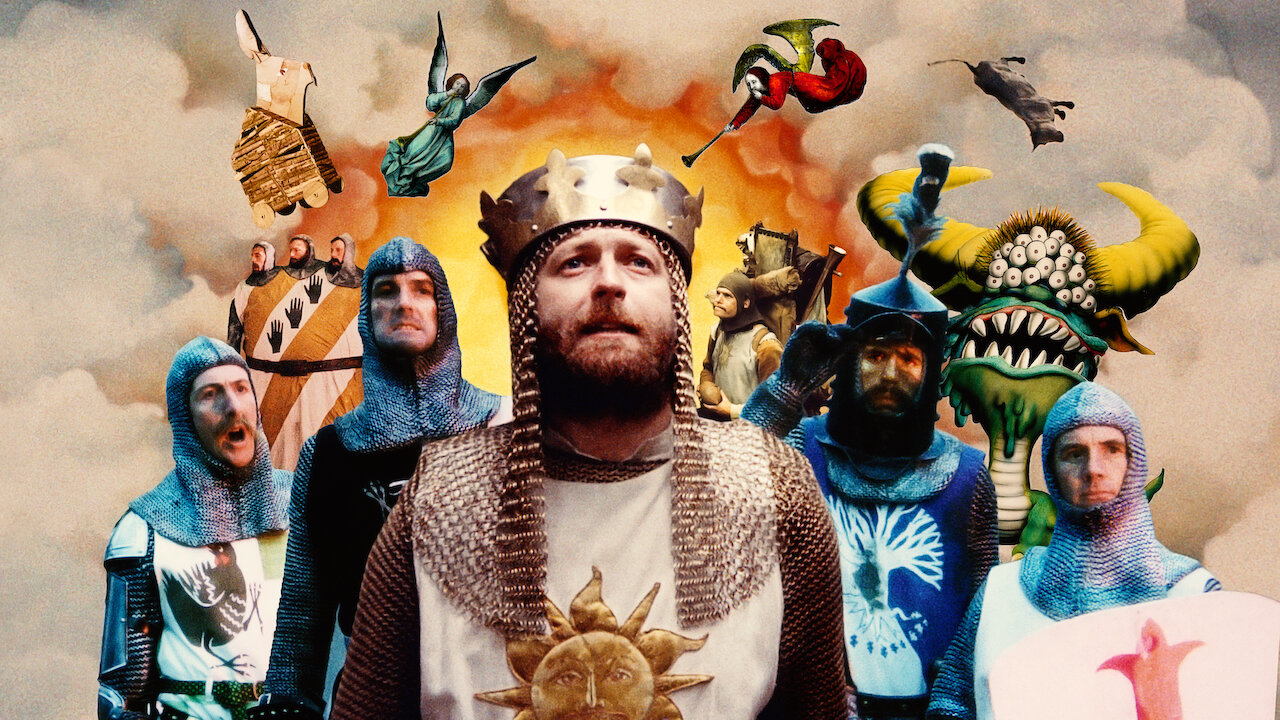 None of these are Netflix originals, either, important to note; but when other streaming services or on-demand providers stop offering back-catalogs of older shows or movies (that are still plenty popular) (looking straight at you, Cartoon Network), I've found Netflix is doing a pretty good job of keeping a lot of oldies-but-goodies in the lineup.
Cancel culture has especially come down hard on comedy and satire, and Monty Python is a perfect example of content that might be shunned by other channels or platforms. So the fact I was able to add The Holy Grail to my list the other night really warms my heart. Like almost anyone who has already watched that film approximately 14 times, I still have a number of the lines memorized, and after re-viewing am seized by the sudden desire to terrorize innocent townsfolk by shouting "Ni!" at them as I gallop past, clapping my coconuts together.
(Bonus points for anybody who gets those references.)
As an unapologetic Jim Henson devotee, I am so excited that Labyrinth is now available on streaming. I haven't watched it yet, but it is in the queue, and I will be ready with tissues and my singing voice!
Since We Bare Bears got cancelled (and I can't afford DVD box sets lately), having this show at the touch of a few buttons has been great for the kids. With its infectiously-catchy theme tune, lovable misfit characters, and offbeat humor, this is a winner for all ages, I feel.
And there we have it! Congratulations on making it to the end of this rather long post! Now go watch the recommendation of your choice!