So, recently, I posted a snippet on Facebook and Twitter about this fantastic episode I caught (while scouring the cable networks in one last-ditch attempt to discover some redeeming qualities in current TV broadcasts).
Stitchers is a program I've watched several times before, so I was familiar with all the characters and backstory, and even had a good idea of what was going on without needing to watch the "previously on…" part.
What drew me to it this particular day (about 2 weeks ago now) was that, in the summary, the words "autism" and "empath" were mentioned.
For those of you who aren't familiar with this show, the premise of Stitchers is that a secret organization founded by the American government uses advanced technology to solve homicides by "stitching" into the memories of the recently deceased individual.
Unfortunately, it has (in my view) become too formulaic, and most of the plots are now too predictable. Also, I don't really care for the direction the showrunners are taking most of the character development. But, this is just my opinion, so, please don't let that stop you from watching the show if you're interested.
Episode 7 of Season 3, entitled "Just the Two of Us," is a breath of fresh air in many ways. It cuts out the usual (tedious) plotline of find-clues, snarky-banter, confront-the-killer, and instead focuses on the details of the "stitch" itself. It turns out that the stitcher, Kirsten, is stuck in the memories of their current case, and she needs to work through it via the mental process of the victim. The reason this is especially challenging for her is because the victim was autistic, and of course how his brain works is not what most people are used to.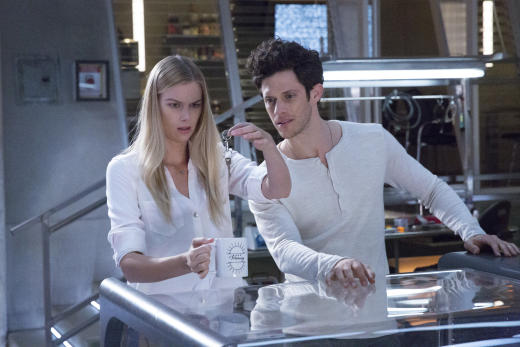 Whenever I become aware of autism "rep" happening in TV/movies, I develop a skeptical perspective until they've proven this rep to be accurate and encouraging. The writers and directors of "Just the Two of Us" have (rightfully) earned my respect.
They did a fantastic job of covering sensory perception disorder, trouble recognizing facial/social cues, obsessive behavior, and even the not-so-kind way NT folks may view someone like Tom (the murder victim) as a burden — but never once indicating that Tom was acting maliciously or could have prevented his autism.
This is also the first time I've seen a storyline that addressed something that most NTs have very little to no concept of — super-heightened empathy. It's hard to explain, but basically it means the autist physically feels the depths of somebody else's emotional responses. For example, if we're around a family member who's just lost a job, we feel weighted down by the physical aching and pain of the disappointment, confusion, anger or sadness they're emotionally processing. It often upsets the autist, since we can't explain why our heart suddenly pounds, our chest aches, we want to cry or scream, when the thing didn't even happen to us.
I haven't experienced a lot of this in recent years (a side effect of burnout, maybe?), but ages ago, it was so strong I simply could not attend church services that strongly moved people, funerals, films with tearjerker endings, etc. I have never come across this mentioned in textbooks or non-fiction memoirs on autism. So this inclusion was amazing to me.
The fact that Kirsten has to explore Tom's POV so intimately (as if it were her own) is incredible. Not only does this definitely bridge the gap between unawareness and awareness, misunderstanding and understanding, it makes Kirsten so truly tolerant of another's way of living and that it was totally normal for him. I just loved how the writers set up the script and screenplay, so that Kirsten and her love interest, Cameron, both vicariously saw things through Tom's eyes in the stitch, which was a subtle and clever way of giving crime-clues to the audience, but also so tremendously beautiful in demonstrating the pros and cons of Tom's ASD.
Not once in the entire 43 minutes did I feel that Tom was being overtly blamed for things he could not control and must have struggled with his entire life. Having been persecuted the majority of my existence for simply being "different," I wanted to high-five the people who made this storyline come to the screen. (Okay, that's a little understated. I wanted to write a letter of recommendation for their resumes and buy them coffee and make them a commemorative art piece for the episode.)
I pushed everyone I know on Facebook and Twitter to download this and watch it with an open mind. I'm doing the same now here. You don't have to be a regular viewer of the show to benefit.
There were so many little things, hints, moments, and whole scenes, paragraphs of dialogue, all that I simply loved. But I'll wrap up with this:
At one point in the stitch (when Kirsten and Cameron are unwittingly perceiving the situation via Tom's ASD traits), Cameron relates to Kirsten a situation that was actually part of Tom's life; at the end of the conversation, Cameron says, "Thank you for listening," and Kirsten replies, "Thanks for talking to me."
Later, in the final scene, after Kirsten has figured out who the killer is, she says to the passed-on Tom, "Thanks for talking to me." I cannot EVEN with how much this made me cry. It is such the absolute truth for so many autists — not only do we want people to listen to us, we want to be able to share our thoughts and feelings, without fear of being judged or told to change.
Kirsten didn't just listen to Tom, she accepted.
It's how they were able to solve his murder, together. It's how Tom helped Kirsten deal with some personal things she was really having trouble with.
She grasped the beauty of what it can mean to think differently.