So, a few months ago, I was asked to participate in a library discussion group concentrating on the non-fiction title, "Thirty Million Words," which is a combination research-report/hopes for the future book covering a long-term study conducted by Dana Suskind, MD, who was an audiologist and a surgeon of cochlear implants (those devices that are inserted directly into deaf ears to produce hearing). Anyway, what all of that long-winded introductory sentence means is this — The librarian knows that I have special needs kids (including speech difficulties), and thought that I'd be interested in the topic of how language builds the brains of children.
And, yes, I was, and am. Since I finished my degree in Early Childhood Education, I've been very aware of and into this sort of research. Granted, now that I'm out of the preschool classroom, I don't keep up on these studies as much as I would like to. Reading this book was a very good way to get back into it.
"Thirty Million Words" is about so much more than how language development affects a child's future academic and social performance. It's about critically examining the gap between economic classes when it comes to educational achievement, the vast differences between the self-esteem and personal success of children who were "talked to" enough (as opposed to those who apparently weren't), what that actually means, how ideally every child would obtain it, and what this research means for our society as a whole.
It's fascinating. Terrifying. Amazing. Inspiring. Intimidating. I've never read a non-fiction book on this topic with this amount of weight before. Most of my textbooks for ECE were either the history of education (with very little about how to potentially grow and advance it for the 21st century), or psychological studies about child development, which is all well and good, but goes only so far when you're trying to get into the mind and the heart. Suskind didn't simply repeat what we've been hearing on the news for 30 years — that children from economically disadvantaged backgrounds will most likely struggle more in academics — she looked at possible ways to change that.
The early chapters are heavy on the "technical" stuff — jargon, other studies in this field, Suskind's own background in audiology and how some of her patients' results influenced her to learn more about language and the growing brain. In the middle of the book, she begins to really discuss the problems our current culture is facing as a result of being deficient in a particular type of linguistics — families engaging in routine conversation just for the sake of bonding. And this is where the immediate consequences of this decline in America truly starts to hit home.
As I read, I realized that she was saying something quite contradictory to what the modern era has been striving towards: Technology is not going to help our society evolve, it's going to make it crash and burn. What she found was that more and more parents are tuned in more to their screens, especially handheld devices, in their children's presence, and are relying on "educational TV" or "learning apps" to teach their kids things we've been teaching via human interaction for millienia.
In the 20th century, we used technological advances to enhance our communication; the telephone could relay important information that before would've taken days or even weeks to reach someone via letter. Television was to become informed and entertained; we watched the news, and learned things about our world that we'd never imagined; classic books from all genres were made into movies, accessible to tons of people of all ages for the first time, sharing archetypal stories that had already been passed down over generations.
Nowadays, we are using our technology to hide from other humans. Evidently, even our own children.
(This is the children's area at my local library, by the way.)
Suskind discovered that children who were raised in homes where screen time (for both adults and youth) was limited, and physical interaction encouraged — beyond "eat your dinner," "brush your teeth," "good night" — regardless of whether their family earned 100,000 dollars a year or 15,000, made significant advancements in academics, personal success, and were likely to consider themselves capable, confident individuals.
Yes, it goes that far. It just isn't talking to — not at — our kids. It's what we say and how we say it.
Before I had Muffin, I made a habit of trying to read and watch faith-based self-help. Not the cheesy type that makes us all groan and roll our eyes, because the pastors in question are wearing expensive clothes and have gigantic smiles with perfect teeth, and their idea of "suffering" is their dog refusing to hold still for grooming. No, I greatly preferred the practical, will-actually-make-an-impact, Biblical-principled. Joyce Meyer and Max Lucado are still my favorites. And they have both been quoted as saying: Words have power.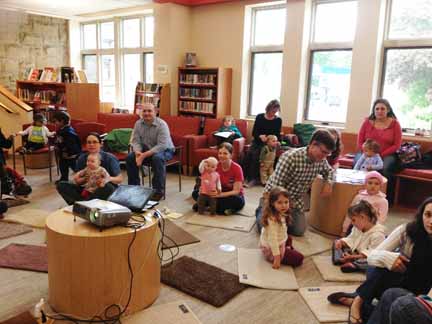 Meyer and Lucado got it absolutely right: No matter what "the world" may tell us ("shrug it off," "don't take it to heart," "they don't really mean it") — words can hurt. Or words can build us up, increase our joy, our determination, our feelings of worth and purpose. It's been in the Bible for thousands of years. How many passages are dedicated to showing us how God feels about His creation by verbal explanation?: love, mercy, grace, forgiveness, peace, wise, comfort, Father. I am the Life, Living Water. Come to me, lay down your burdens. The 23rd Pslam is one of the most well-known Bible passages in the world because of its incredibly beautiful and affirming word imagery.
Now science is reinforcing that.
And even as an autist, I can attest to the value of face-to-face human interaction.
I love reading to my kids. Well, these days it's just Muffin. White Fang gave up being read to pretty much as soon as he was able to silently read himself. And I do strive to have meaningful conversations with my boys — beyond instructions and a blase` "how was your day?" Yes, even Muffin and I can have meaningful conversations. (Anyone who dares to claim there is no such thing with a preschooler, I'll meet you out back with my nunchucks.)
My goal in all of this is not simply to make sure they're doing well in school. It's not even because I love them and want to know they're happy. Well, yes, of course that, duh. But my ultimate endeavor in carrying on continual discourse with my children is to help them become more. To ensure that they develop a strong sense of self-worth, that they know I — the authority figure, the unreachable "old person" who might "not understand" — do value what's important to them.
By doing so, I am helping to make these fledging little humans into whole people.
This really is how we'll evolve as a society. As individuals, as a culture.
Everybody who works with kids needs to read this book. Not just teachers, but social workers, school administration, bus drivers, janitors, recess monitors. Pediatric nurses and speech therapists and day care staff. Not just parents — grandparents, aunts, uncles, adult cousins, babysitters. Librarians, library volunteers. The folks who give kids swim and art and music lessons, run sports teams and Boy Scouts and Girl Scouts.
Just, everybody.
So we can start to make the future our children deserve.