Yes, it is officially the new year, a new month, and we're back to the routine of raving and flailing over our latest reads!
In November and December, I made time to focus on something that was not writing or preparing for holidays, and polished off a few things that had been on my TBR for most of fall.
There was excitement, disappointment, and some confusion in the whole experience.
Renegades by Marissa Meyer:
This was a bit of a wash for me. It was the first time in quite a while I'd tried a Marissa Meyer (since I got to about page 25 in Cinder and was just completely, "What the blazing apricots is going on?!"). I noticed Renegades was rather thick, and got a bit apprehensive, as long books and I do not really go together. I ended up DNF-ing. By page 175, there just wasn't enough going on that didn't feel cliche or recycled. This novel could've taken the established superhero vs. supervillain genre and really shaken it up, but there were no new thoughts or ideas that I could find.
Wires and Nerve by Marissa Meyer: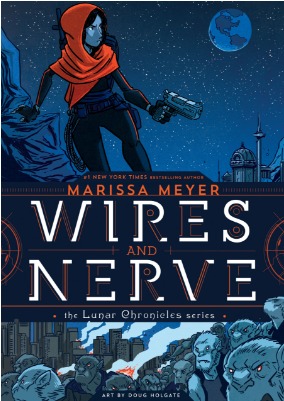 Yes, another Marissa Meyer! I actually didn't realize that when I ordered it from the library. Nor did I know it was a graphic novel — and I don't read graphic novels. SIGH. The moral of the story is: Library catalogs need to have their materials marked more clearly, and: Readers should do as much research as possible on a title before they request it.
Dragonfly Song by Wendy Orr:
Okay, this was just odd. I liked the way it was set in ancient Greece (historically, not mythologically), and how the author split the narration into prose and poetry to show different POVs. And this is a MG novel, so I figured it would be pretty easy and fun.
Wow, was I wrong. Nothing happens for most of part one. The book draaaaags on, explaining wilderness survival in ridiculous amounts of detail, and I can't see your average 5th-grader being interested in that. Then, when a significant plot advancement finally does occur, the rest of the book turns into an ancient version of The Hunger Games. Huh?!?! So, Dragonfly Song gets a no from me.
This Savage Song by VE Schwab:
For most of 2017, I've been hearing lots and lots about VE Schwab. Well, maybe I started with the wrong series, but after not finishing This Savage Song, I'm (weepingly) not very impressed. A few months ago, I accidentally read Our Dark Duet first — I didn't know it was the sequel. Anyway, now informed of my mistake, I obtained This Savage Song with high hopes.
Gah. I found the writing to be endless repetition of the same descriptions of Kate and August; stressing that Verity City was infested with monsters (which were rarely seen before page 200); and that Kate wanted to be a bada** gangster like her father (but whyyyyyy?!?!) and August was a monster who wanted to act like a human (but whyyyyyyyy?!?!). I didn't feel the author provided enough details on the characters' motivations or ambitions. And there was so little information on what actually triggered the new territories forming, the monster apocalypse, and why society was still set on taking selfies at high school after literal soul-sucking blackness had invaded.
So, I'm a bit sad.
Also, why is this cover so much better than the one I got?!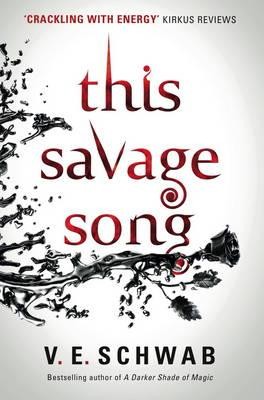 All the Crooked Saints by Maggie Stiefvater: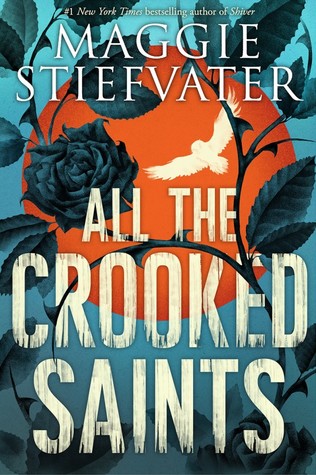 This was the first book I bought in months. I was very excited for it, and I even made myself wait to start it until I'd finished my library books. All the Crooked Saints is very interesting, unique, and it's not that I didn't like it or wouldn't recommend it. Buuuut. It doesn't read like a Stiefvater novel. Yes, her trademark lyrical prose and humor are very there. However, I had a really tough time getting going with it. I actually had to read it twice to figure out what was really going on under the surface of the premise. And it took me until about halfway through that second reading before something clicked for me that it didn't previously, and then some of the motivations made SO much sense.
I also realized something: That, for me, it's much better to concentrate on Stiefvater works told in the first person. The way she wrote The Raven Cycle and All the Crooked Saints is very far removed from how immersed in the main characters' heads/feelings she was with The Wolves of Mercy Falls and The Scorpio Races. Her standing-back-and-acting-as-1930s-radio-show-host style of narration in this new release makes connecting with her characters a LOT harder (at least for this reader).
Plus, this title relied heavily on the magical realism element, much more than The Raven Cycle (which is saying something, as it featured prominently in that series). Magical realism and I, it's becoming apparent, are doomed to never co-exist. I just have the bloody hardest time figuring it out, and it gets really distracting to me from the actual story. Maybe this is why I had such a struggle with All The Crooked Saints overall.
Warriors: Legends of the Clans by Erin Hunter
Well, it's probably no shock that I LOVED this. It delivered ALL THE FEELS. Legends of the Clans is a companion novella to the canon series. These short stories expanded on some of the characters that we didn't know very much about, and tied in to the canon beautifully. I had a massive, stupid grin on my face one page, and then tears were streaming from my eyes the next. 10/10 for ripping out my heart once again, Erin Hunter. (Seriously, keep it up!)