Okay, first, I feel the need to apologize to those of you who aren't sci-fi fans. This will be a sci-fi intense post. But this subject is something near and dear to my heart, and I do want to delve into it. And, after all, this is my blog, so suck it up  just bear with me for the moment.
On the whole, I'm not a massive sci-fi person. I enjoy Star Trek, but not much else when it comes to the genre-heavy stuff. But there are some stories, in any type of medium, that I feel just transcend the "confines" of their genre, and Blade Runner is one of these tales.
The original 1982 movie is based on a novella by acclaimed sci-fi author Phillip K. Dick, entitled "Do Androids Dream of Electric Sheep?" This is not a twisty-turny, high-action sort of plot like Star Wars. Rather, Blade Runner asks one of the most important questions posed by civilization: How do we know what makes us human?
Blade Runner is set in a bleak, downtrodden L.A. of approximately 2019…which now does not seem so far away and futuristic. And, unfortunately, Mr. Dick seems to have been closer to the truth than we would've liked to believe we'd be in the 21st century when he first penned his tale of Replicants and the special forces police who hunt them. There is plenty of poverty, crime, environmental concerns, and inequality.
Normally, this is the type of film I wouldn't give a second glance after about 10 minutes; but I am forever grateful that I was initially forced to watch it all the way through. The sad and dark atmosphere actually sets the scene for one of the most beautiful on-screen romances. The soundtrack is by turns melodic, intriguing, haunting, and when it has to be, just a tad sinister. The directing and acting are great, and the script gives you plenty to think about.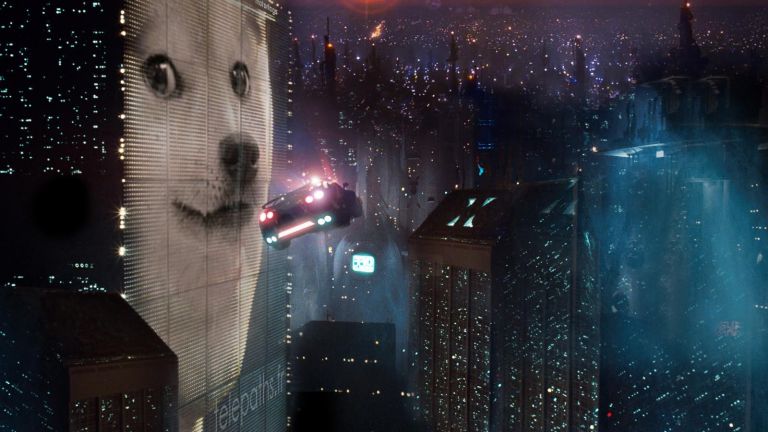 The filmmaking technology in 1982 was of course not what it is today; but by the standards back then, Blade Runner really set the bar high. Its use of intricately detailed models, clever lighting, and doing more with less means that the effects are impressive for the time period, but don't overwhelm the plot or characterizations.
Now, before I just run full-length into waxing poetic about my love for this movie, I'll quickly get back to the subject at hand: What I adore most is the innocence and tenderness with which the topic of "how human can Replicants be?" is addressed. Replicants are BR's version of androids, and while it's presented early on that they can be capable of extreme violence, it's also shown that they can also be capable of compassion, empathy, remorse, and love. (As someone who's known I was human my whole life, but was frequently accused of being either nearly inhuman or even extraterrestial, I completely felt the plight of the Replicants.)
Anyway, while the debate on what really makes us human, how do we know what does and doesn't have a soul, and other existential questions abound in the film, we are also faced with the equally tough issue of: Because Replicants are androids, although they look and (mostly) act like us, they are still robots, and therefore certain laws must apply.
The 5 Laws of Robotics immediately come to my mind. One states that robots shouldn't want to harm humans, because they don't have the emotional capacity to truly understand how damaging that can be (to individuals, society, to the concept of humanity). Which is why Replicants who "go rogue" and have hurt or even killed humans must be "retired" (basically, executed). Another is that robots/androids are designed to help people achieve human-oriented/inspired goals, so the concept of even AI developing its own ulterior motives is just not kosher.
So, when we get to the long-awaited sequel film, Blade Runner 2049 — which my family watched the other night — I am having a LOT of conflicted feelings.
#1: I LOVED the clear references to the original in terms of the premise, setting, music, and history. (I can't stand it when a film in the same world as a predecesor takes all the rules from that story and throws them over a cliff and then stomps on the ashes.)
#2: While I didn't personally care for some of the casting choices, I thought the acting was well done, and the directing.
#3: But it begins to fall apart for me about halfway through. The sequel is loooooong, and it feels unnecessarily so. I figure the last hour could've been greatly reduced.
#4: The villain gets about 10 minutes' screen time, nowhere near enough to develop what his actual devious scheme is, why he cares, or why we the audience should care.
#5: The big plot reveal (man, will this one be hard to do without spoilers!) hinges on ignoring a previously impossible notion in hardcore sci-fi. It feels extremely un-canon, and therefore I have ISSUES. Not only does it go against part of the Laws of Robotics, it goes against science, which brought the Replicants into being, and it is science that cannot be ignored, without throwing into chaos the entire system of the universe, and…well… My poor Vulcan brain is tied in knots.
One of my biggest sticking points with movies from the 80s and 90s was that sequels — and then series — became the norm, even when it wasn't needed. Part of what has continued to draw me to Blade Runner over the years is the way its story seemed so wrapped up in its own neat little package. Yes, there was potential for a sequel, but it didn't feel like the end of the world if one wasn't created.
Now this has all changed. And while I don't hold it against the people who made Blade Runner 2049, I am exercising my First Amendment right to feel rather meh about this state of affairs.
So, tell me — how many of you who are sci-fi fans have seen the original? And the sequel? What are your thoughts? (And if there happens to be a big spoiler in the comments, sorry, folks, I take no responsibility for that. You have been forewarned!)