Yes, I really am going with that title, because, yes, he did. Some of these I liked, and volunteer to continue with, and others…I am, well, err…we'll get to that part.
The Illuminae Files series by Jay Kristoff and Amie Kaufman: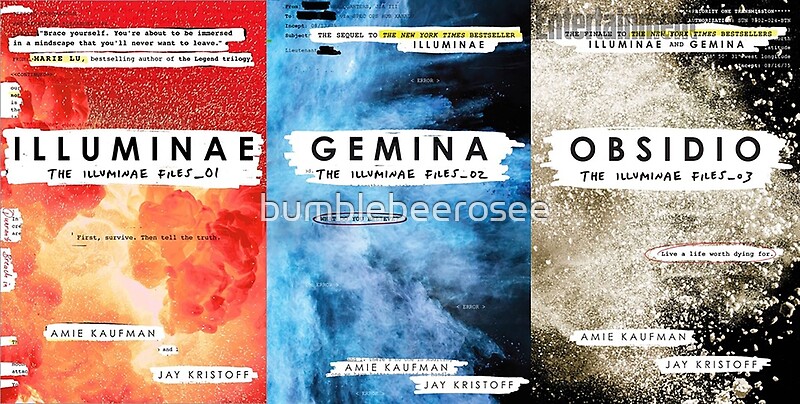 Okay, I am the biggest blob of aaaaaaaaahhhhhhhhhh-it-wrecked-me-and-aaaaaaaaaaahhh-it-drove-me-crazy on these books. Book 1, I honestly, for the most part, I liked. Book 2…not so much. And book 3…Ehhhhhhhhhhh. Let the whinging commence!
To begin with, the format of this series is never something I would choose on my own. The story being told through letters, security cam transcripts, IM chats, and official spaceship documentation is quite alien (ha) to me, and I immediately passed on the thought of reading this when book 1 first came out.
However, at the time, White Fang was having a bit of difficulty comprehending some traditional text stories, hence I tried him for it. He loved it…and insisted I also read it. The things we do for our kids…
As I mentioned, book 1 wasn't awful, though. But it was kind of hard to get through. I was a little relieved when I finished it.
Enter book 2… Oh, man. It was a struggle. I just couldn't connect to the characters, and I HATED the AI…seriously, the Space Odyssey 2001 flashbacks were almost torture…
Book 3 meant the return of characters I grew attached to in book 1, and that meant I could survive the final installment. The ending was satisfying, not too dark, and everybody that I wanted to live, did. So, major yay for that.
Unpopular opinion alert: Here are my major qualms with this series — they should not be branded/marketed YA. They are extremely violent and grotesque in places (especially in Gemina), there are a plethora of sexual references, and it does not matter that the really bad swear words are blacked out, you can still tell by context what they most likely were. As a parent, this bothers me. I'm not in the habit of censoring what White Fang reads — I want him not to be naive, and I want him to be aware that the world is not all exploding glitter rainbows. BUT I also want him to know that emulating such crude language is not gentlemanly, nor mature, and I would like him to believe that waiting to become physically intimate with your crush is an honorable lifestyle and worth pursuing. Books like this do not help the cause of the parent of teen boys. SIGH.
The Apprentice Cat series by Virginia Ripple:
From one end of the literary analysis criteria to the other. This indie published MG fantasy series is Christian-based, but hardly preachy, absolutely clean language, and the only hints at romance are sweet and age-appropriate for the target audience. There's some violence, but nothing gory, and when there's darker subject matter, it fits for the context of that part of the plot.
Now, the irony — I am not a fan of the author's style. It just doesn't flow right for me. The characters are cute — the protagonist cat is named TOBY, for crying out loud — and content is definitely not an issue, but I just cannot get into this tale. And I just found out there's a fourth book. I'm sure White Fang will want to read it — he loved this whole bunch. But hopefully I won't have to read it as well.
TRULY no offense to the author. I LOVE, on steroids, that a Christian author crafted a MG/YA fantasy that feels Harry Potter-ish with cats as the heroes. I have even added the 4th tale (ha) to my TBR, so that I remember to get it for White Fang.
And I have to admit, I'm a little sad that these novels don't make me explode with glitter and rainbows.
The Warriors novellas by Erin Hunter:
First, these COVERS. Let's have a moment of appreciation for the art.
Okay, onto the actual writing…
My favorites were Spottedleaf's Heart, Ravenpaw's Farewell, and Mistystar's Omen. Almost all of the stories had me in absolute tears, or raging at the villain. Or both. Hey, it's Warriors. 
Some of these shorter tales really added to the canon of the series, and you could tell the authors (Erin Hunter is a ghost writer name — sorry, folks — and these novels are actually penned by a collection of writers) put a lot of thought into the backstories of these secondary characters that didn't get enough "screen time" in the original books. Others were fan favorites that the "canon" just strayed away from, and I felt creating a proper end to their plots was very fitting.
However, as I've unfortunately noticed happening with a lot of series (especially the longer they carry on), a couple of these really did nothing for expanding the established world, and felt tacked on by the publisher to capitalize on the success of these books as a whole. And that makes me kind of sad.
The good news is most of these are well worth reading if you're a Warriors fan.
And there we have it for now! I'll be back in the near future with some more announcements about what my publishing empire will look like this year!