Okay, so here I am, for one of the few posts I will be doing in the next few weeks! I am doubling down to finish Volume 2 on the original timetable (time apparently hates me, what have I ever done to it?!), AND somehow start NaNoWriMo on schedule. Maybe I'm just a glutton for punishment.
Rather, it means I am venturing forth on continuing my authorly dreams, and spending more of my brain power and calendar on writing fiction than writing stuff like blog posts. We'll see if I feel the urge to write a review on Goodreads, on a book that I simply must share my thoughts now (before they slip out of my head, and because I do love to share with my friends).
Anyway, here are some summaries of my feelings about some stuff I recently finished…
Fantastic Beasts and Where to Find Them by JK Rowling:
White Fang and I are both reading this textbook/field guide/lovely supplemental material to the world of Harry Potter. The handwritten notes are so cute. And I love getting a little more insight into this utterly amazing realm Rowling created.
A Fierce and Subtle Poison by Samantha Mabry:
I have to say, this was a disappointment. It has a really interesting premise — set in Puerto Rico (sadly relevant right now), it follows the tale of a teenage boy who gets caught up in a possible legend-come-to-life. But I only gave it 1 star, because the plot was all over the place; we're never given a concrete reason for the affliction Isabel suffers from; nor is that affliction itself ever firmly defined. Too much of the story wandered back and forth, between teenage crushes and the serious business of missing persons, and I didn't feel that enough of the premise became grounded in the very realistic setting.
And I Darken by Kiersten White: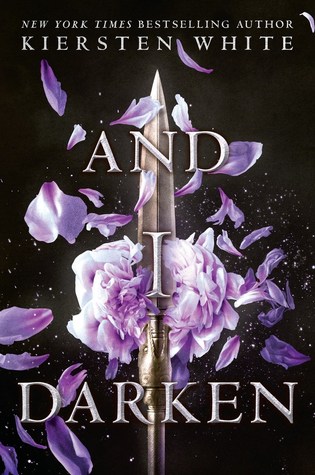 I didn't finish this (with about 75 pages to go), because I had very conflicted emotions on it. The writing style is superbly dark and intriguing, true to the atmosphere and feelings of the time period, and I've read all the fictional and historical accounts of Vlad Dracul, and agree with the author that so, so much about this man is simply conjecture and the truth is probably lost to the winds of time. But what really got to me is the quite straightforward fact that her portrayal of homosexuality in the Ottoman Empire/Middle Ages Eastern Europe was just a grab at pushing a modern viewpoint. How both those cultures felt about such a lifestyle in that century would've resulted in heads literally rolling (or even worse), full stop. No closet gays would've been protected by the palace of the city. And I am not sorry in the slightest that this may offend the sensibilities of modern readers — I don't concur with that, I don't sanction it, but I know it is how it was, and I don't think covering up the outdated and barbaric views of cultures long dead and gone is beneficial.
A Clash of Kings by George RR Martin:
I didn't finish this, either, and won't be continuing with the series. The reason is that I simply am not one for the explicit content. It's a personal choice. That aside, I honestly am so impressed by Martin's skills with plotting and character depiction, and I wish him all the best in releasing the long-awaited conclusion to this epic!
Girl Online by Zoe Sugg:
I just posted a long and gushing review on Goodreads about this little gem. It has the best rep of panic attacks I've read in a while, and the family is BEYOND AWESOME, and I am sooooo grateful to the author for developing such a supportive and nice cast. It also covers the very real and very important topics of being careful what you share on the internet, and whether connecting too much to people online versus your close friends in real life is healthy. Since all of us are reading this post online, we can verify that sometimes we come across other screen names/commenters who are just wonderful to interact with — but is it okay to base our self-esteem on our online success, or do we need to first keep in mind how our IRL people think of us? The narrator learns some hard lessons, and never once does the writing feel preachy or like the author is trying to sway our mindsets one way or another. Her narrator has to decide what works best for her, and that is vital for teenagers growing up in a culture of conformity to figure out. I highly recommend this one!
And there we are! I'll catch up with you all for the book club meeting on the 30th! Take care, moths!